The month of June begins with your favourite HoboSapien having the a-typical Canadian Artist experience right out of the ol' dusty textbook. I am nestled in a cottage on a lake in Northern Ontario just outside of Kenora and a few hours east of Winnipeg. Lake of the Woods kinda' place. Holy Canadian. I think I just heard a loon call in the distance and there's a beaver dam up the way, if you can believe it.
Long story short: It's been a road trip of road trips.
Short story long….
Onalea Gilbertson and I are currently being hosted by the inimitable Doug McKeag whose family have had this property on Granite Lake for quite some time. Five acres or some such. Right on the shore. Since the 40's, maybe? There's a couple of cabins and a series of boat-houses in the kind of place Gordon Korman would have written about in his Bugs Potter series. Or some such Canadian reference.
It's beautiful and peaceful here and the perfect place to reflect back on the last few weeks. The gentle sound of lapping waves on the dock underscores my lowering anxiety. I'm still shedding the buzz and bustle of city life and while I haven't reached a zero yet I'm certainly down to a daily average of three or four on the anxiety scale, which feels like an enormous accomplishment.
I begin each day with thoughts of how lucky I am and eager to see where the adventure will take me. I reflect that my 20 year-old self would be overjoyed with where I am and what I am doing. For someone with 9% vision to have seen so much is a thrill. Heck, I've even taken up driving.
Onalea and I are crossing the country on the way to Stratford, Ontario where I will once again perform "Assassinating Thomson" as part of the Forum series. I will be doing two shows there with the second show landing squarely on Father's Day, which is a perfect day for that show. It boggles the ol' boggled brain that I have been doing "Thomson" for five years now. The little show that could…
I'll be looking over the script and getting it back into the body for the next few days while I sit by the water and listen to the stillness. The solo show in rehearsal.
That's ahead.
Behind us?
A limitless sea it seems.
It was a highlight of the month and a most touching moment to witness when Onalea's parents gifted her a vehicle; a golden minivan akin to the kind I've spent so much time in with the Monster Theatre crew touring the county. It feels like home already. Onalea and I have been discussing an enormous road-trip across the country this summer with our destination being Newfoundland or P.E.I. We want to spend as much time camping and enjoying the outdoors as we possibly can, taking our time in seeing the country and finding some backroads and places unknown. Avoiding the TransCanada where possible. Factoring in the cost of a vehicle was our primary stress. When Grant and Jan Gilbertson stood out front of their house and gifted Onalea the van, it was like a bright light of possibility was shining on us.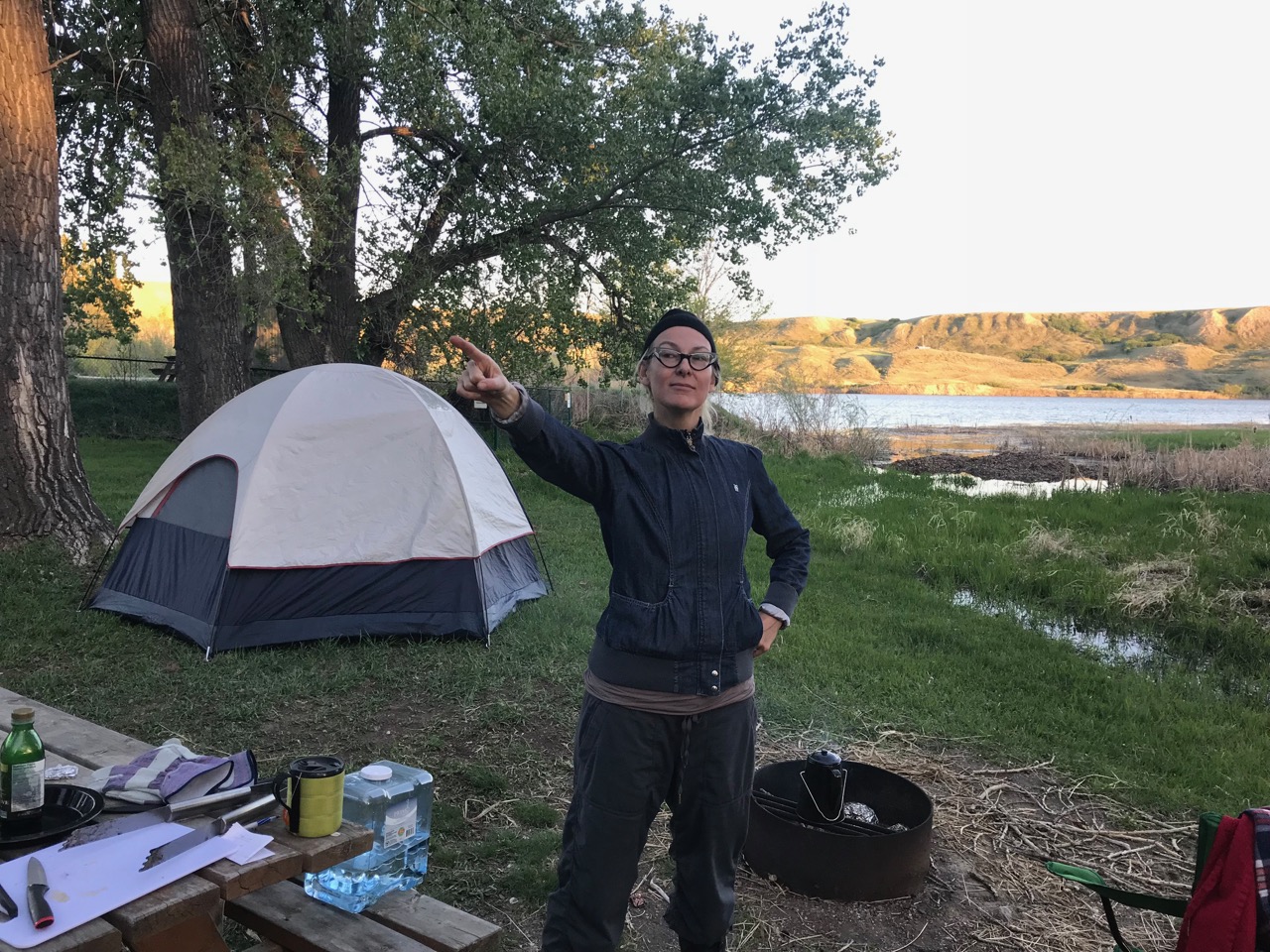 Beyond the future
Little Bow, Alberta
May began in Calgary, Alberta doing a workshop of "Zorro: Family Code" and holding auditions. It was inspiring to see the great talent that Calgary has to offer and making the casting decisions was a wonderful challenge. The script is in fine shape and it's great to be back creating with some of my favourite people. Rebecca Northan, Christian Goutsis and I created "Slipper" together a few years ago and it feels like we're picking up as creators right where we left off. Our short-hand continues to evolve and the laughs are always plentiful.
Alberta Theatre Projects will present "Zorro: Family Code" as the Holiday Family Show in November/December. I'm headed down the rabbit-hole of adventure music to accompany sword-fights and action as Christian and I are composing and sound-designing together.
While in Calgary I got to do a little busking with my old friend, Rich. We took a few hours together and sat for a portrait as well, which I recorded the audio of. I've been wanting to do this for a while now and I'm glad to have further documentation of my sittings I'll edit up a couple of minutes and post that to the old Patreon Page in the upcoming months. I'd love for you all to meet Rich.
Following the week in Calgary I was reunited with Onalea Gilbertson who had spent two months in Vancouver working with the Kettle Homeless Shelter and the Vancouver Opera on her piece, "Requiem for a Lost Girl". I dearly wish I could have seen it as it is a deeply moving work of heart. I'm comforted in the knowledge that Onalea is so inspired by the work that she will continue to pursue it's further production and life.
Onalea and I were a guests of Dave and Jane Pierce's at their property outside of Calgary for a week. It was the first time I'd had a chance to spend time with Dave and Jane, and two more gracious, welcoming people you could hardly expect to meet in this world. Jane's art studio filled me with awe and wonder. Dave's music studio was stellar. The house itself is full of beautiful art and enormous creativity. I was practically bristling with the creative hum.
Dave and I sat for a portrait on the back deck and I've also recorded that for the archives. I will be editing a taste of that interview and posting it on Patreon as well. You simply must meet Dave. He just received an honorary Doctorate from the U of C, so I suppose I'll be calling him, "doctor".
Next - we packed up Goldie the Van and drove to visit Onalea's parent's for a night north of Calgary in Airdrie. We hit the road officially on the 18th and went to the Crowsnest Pass and visited Terra Hazelton for a couple of nights at a little house that she was sitting. It was so beautiful out there, though we were anxious to try out our camping skills and after two nights with Terra we hopped in the van and drove off with no particular destination in mind. I keyed "camping" into the iPhone and we found ourselves a beautiful little spot at Lundbreck falls It was gorgeous.
One night was enough, so we hopped back in Goldie and found ourselves for a night at Little Bow campsite. It was louder than we could stand and so we packed up early the next morning and were off again. A couple of hours south and we found my grandparent's farm (or what's left of it). There's a rock on the property that my father painted many years ago and so I touched it up a bit. I also climbed behind the wheel of the van and drove the perimeter of the property, which felt like a much-delayed right of passage. I'm fairly certain that some of my relatives must have learned to drive on that very road. It was thrilling.
We made our way to Cypress Hills in southern Alberta which was simply breathtaking. After our night at a crowded camping spot, we longed for some peace and quiet. The spot we found was perfect and we settled in for a full week of calm and relaxation. The weather was perfect and the days were filled with painting and sketching and the occasional walk-about.
The time drew to a close there at Spruce Coulee and we packed up ol' Goldie and took off for Grasslands National Park.
I'd heard that the park was notorious for the silence and for the darkness of the skies. As we drove into the park we saw three Bison by the side of the road and were greeted by the prairie dogs. It was truly something.
I have never seen a place so barren. The bald-ass prairie, to be sure. Not a single tree in the campsite.
Wow - that was some bare land.
The forecast called for severe weather and we sought shelter at a place called Nickel Lake outside of Wayburn, Saskatchewan. It was a quiet little enclave which I'm sure becomes crowded with life during the summer heat. There were miles of RV's parked around, empty at this time of year. We practically had the park to ourselves.
The severe weather warnings drove us inside and we crashed at the lovely Odette's house in Winnipeg for a couple of nights. It was enough time to see "Solo" at the movie theatre and stock up on our favourite tea before heading Eastward into Ontario and into the bunk at Doug McKeag's place on Granite lake.
The week has flown by and we are preparing to head back to Winnipeg for Doug's sister's wedding on the weekend. The festivities will draw to a close early Sunday morning, I'm sure, and then we will continue our progress towards Stratford and my presentations of "Assassinating Thomson". The second show, on the 24th will include a touch-tour beforehand and live description for the visually impaired.